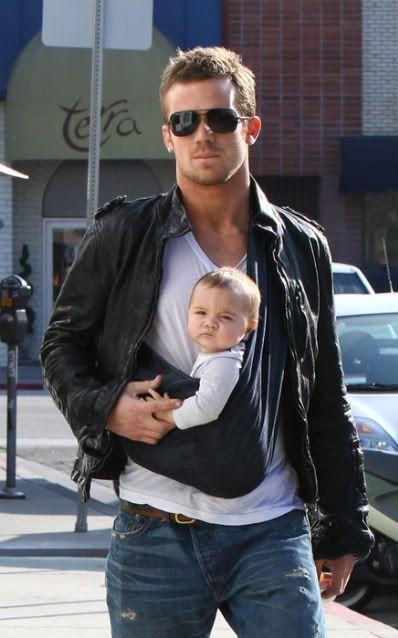 Hi, this is Leigh, from
Marvelous Kiddo
! I don't know about you, but I miss
Man Candy Monday
already. Well, I decided to take matters into my own hands and send Melissa a post about my absolute favorite kind of Man Candy: the BABYWEARING KIND!!! Because seriously, what's cuter than a hot guy toting an adorable baby? Not only are these men beyond-handsome, they're obviously totally into being dads and holding their kids close to their hearts. Swoon.
Allow me to introduce you to my 10 favorite babywearing celebrity dads...
1. Gavin Rossdale. OK, so he was already one of my favorite flavors of man candy waaaaay before he had kids, but I have to say I love him even more now that he's frequently sighted carrying his sons around in slings and pouches. Rock the same look with this Hotsling.
2. Ethan Hawke. I don't think I am alone in my feeling that Mr. Hawke is getting better with age. In any case, he certainly added an attractive twist to that image of aloof charm when he started carrying his tow-headed kiddo around in an ERGObaby.
3. Matthew Broderick
. I have to say, wearing one of the twins in a
Baby Bjorn
, Matthew is the cutest he has ever looked. Take that Ferris Bueller.
4. Cam Gigandet. I will freely admit. I did not give a damn about vampires until I saw this photo. I am so there now.
5. Brad Pitt. The man's hotness knows no bounds, but I dare say he ups the ante every time he takes one of the kids out for a stroll in his arms.
6. Liev Schreiber. Speaking of arms! Wowza. This papa looks oh-so-strapping and sweet.
7. Jeremy Sisto. I just love that he is positively beaming in this photo.
8. Chris Noth. I might be one of the few women that never really got the whole Mr. Big thing. I'll gladly take down-to-earth, involved dad over the distant and debonair version of tall-dark-and handsome any day.
9. Pete Wentz. A cute babywearing dad who also loves to shop!
Be still, my heart.
10. Anthony Kiedis. That's one red-hot chili papa.
Sorry, I couldn't resist ;)